Galvanized Steel Coil
Galvanized steel coil is one of the hot-selling products of Wanzhi Steel. It is available in big, regular, small, and zero spangles. Compared to color steel coil, it is more affordable. Also, it has excellent corrosion resistance and durability. That's why it is extensively used in construction, automobile, furniture, home appliances, etc. Due to its wide applications and good machinability, it is also a great investment project. As a wholesale supplier, Wanzhi Steel has its own factory to meet bulk orders timely. Also, we will offer a direct-sale price to lower your cost. If you are interested, please contact us for details!
Galvanized Steel Coil Specification
| | |
| --- | --- |
| Item | Galvanized Steel Coil |
| Thickness | 0.12mm-2mm |
| Width | 600mm-2,000mm |
| Coil Weight | 3-8 tons (can be customized) |
| Substrate | Hot rolled steel/Cold rolled steel |
| Surface Structure | Zero spangles, Small spangles, Regular spangles, Big spangles |
| Zinc Layer Thickness | 30g/㎡-275g/㎡ (Z275/G90) |
| Standard | AISI, ASTM, BS, GB, JIS |
| Certificates | SGS, ISO 9001 |
| Package | Standard export package |
Note: If you want the width less than 600 mm, you can choose steel strips.
The standard seaworthy package includes waterproof kraft paper and plastic film inside and GI sheets outside. Then it is bound with steel strips. Below are some pictures for your reference.
Introduction to GI Coil Codes
| | | | |
| --- | --- | --- | --- |
| Material | Chinese Code | Japanese Code | European Code |
| Commercial Use | DX51D+Z/DC51D+Z (CR) | SGCC | DX51D+Z |
| Drawing Quality | DX52D+Z/DC52D+Z | SGCD1 | DX52D+Z |
| Deep Drawing Quality | DX53D+Z/DC53D+Z/DX54D+Z/DC54D+Z | SGCD2/SGCD3 | DX53D+Z/DX54D+Z |
| Structural Use | S220/250/280/320/350/550GD+Z | SGC340/400/440/490/570 | S220/250/280/320/350GD+Z |
| Commercial Use | DX51D+Z/DD51D+Z (HR) | SGHC | DX51D+Z |
In general, Z stands for pure zinc coating and ZF refers to zinc-iron alloy coating. The number represents the thickness of the zinc layer. For example, Z120 or Z12 means the weight of zinc coating (double-sided) per square meter is 120 grams. While the zinc coating of the single side will be 60 g/㎡. Below is the recommended zinc layer thickness for different use environments.
| | |
| --- | --- |
| Use Environment | Recommended Zinc layer Thickness |
| Indoor uses | Z10 or Z12 (100 g/㎡or 120 g/㎡) |
| Suburban area | Z20 and painted (200 g/㎡) |
| Urban or industrial area | Z27 (270 g/㎡) or G90 (American Standard) and painted |
| Coastal area | Thicker than Z27 (270 g/㎡) or G90 (American Standard) and painted |
| Stamping or deep drawing applications | Thinner than Z27 (270 g/㎡) or G90 (American Standard) to avoid coating peeling off after stamping |
How to Choose Base Metal Based on Applications?
Uses
Code
Yield Strength (MPa)
Tensile Strength (MPa)
Elongation at Break  A80mm%
General uses
DC51D+Z
140 ~ 300
270 ~500
≧22
Stamping use
DC52D+Z
140 ~ 260
270 ~ 420
≧26
Deep drawing use
DC53D+Z
140 ~ 220
270 ~ 380
≧30
Extra deep drawing
DC54D+Z
120 ~ 200
260 ~ 350
≧36
Ultra-deep drawing
DC56D+Z
120 ~ 180
260 ~ 350
≧39
Structural uses
S220GD+Z
S250GD+Z
S280GD+Z
S320GD+Z
S350GD+Z
S550GD+Z
220
250
280
320
350
550
300
330
360
390
420
550
≧20
≧19
≧18
≧17
≧16
/
Send Us Your Requirements:
Size: the thickness, width, zinc coating thickness, coil weight?
Material and Grade: Hot rolled steel or cold rolled steel? And with spangles or not?
Application: What is the purpose of the coil?
Quantity: How many tons do you need? The MOQ is 25 tons.
Delivery: When is it needed and where is your port?
If you have special requirements, please let us know.
Spangles on Galvanized Steel
Spangle is formed during the hot-dip galvanizing process. The size, brightness, and surface of spangles mainly depend on the composition of the zinc layer and the cooling method. According to the size, it includes small spangles, regular spangles, big spangles, and free spangles. They look different, but the spangles almost will not influence the quality of galvanized steel. You can choose according to your preference and use purpose.
(1) Big or Regular Spangles
Spangle-promoting elements are added to the zinc bath. Then beautiful spangles are formed as the zinc layer solidifies. It looks good. But the grains are coarse and there is slight unevenness. In a word, its adhesion is poor but weather resistance is good. It is most suitable for guardrails, blowers, ducts, rolling shutters, drain pipes, ceiling brackets, etc.
(2) Small Spangles
During the solidification process of the zinc layer, zinc grains are artificially restricted to form as fine spangles as possible. The spangle size can be controlled by cooling time. Generally, the shorter the cooling time, the smaller the size. Its coating performance is great. Therefore, it is perfect for drainage pipes, ceiling brackets, door columns, the substrate for color coated steel, car body panels, guardrails, blowers, etc.
(3) Zero Spangles
By adjusting the chemical composition of the bath, the coating has a uniform surface without visible spangles. The grains are very fine and smooth. It has excellent corrosion resistance and good coating performance. It is also ideal for drainage pipes, automobile components, back panels for home appliances, automobile body panels, guardrails, blowers, etc.
Galvanized Steel Coil Uses
Galvanized coil features lightweight, aesthetics, and excellent corrosion resistance. It can be used directly or as the base metal for PPGI steel. Therefore, GI coil has been a new material for many fields, such as construction, shipbuilding, vehicle manufacturing, furniture, home appliances, etc.
1. Construction
They are often used as roofing sheets, interior and exterior wall panels, door panels and frames, the surface sheet of the balcony, ceiling, railings, partition walls, windows, and doors, gutter, sound insulation walls, ventilation ducts, rainwater pipes, rolling shutters, agricultural warehouses, etc.
2. Home Appliances
GI coil is widely applied to home appliances, such as the back panel of air conditioners, and the outer casing of washing machines, water heaters, refrigerators, microwave ovens, switch cabinets, instrument cabinets, etc.
3. Transportation
It is mainly used as decorative panels for cars, corrosion-resistant parts for cars, decks of trains or ships, containers, road signs, isolation fences, ship bulkheads, etc.
4. Light Industry
It is ideal for making chimneys, kitchen utensils, garbage cans, paint buckets, etc. At Wanzhi Steel, we also make some galvanized products, such as chimney pipes, door panels, corrugated roofing sheets, floor decks, stove panels, etc.
5. Furniture, such as wardrobes, lockers, bookcases, lampshades, desks, beds, bookshelves, etc.
6. Other Uses, such as post and telecommunication cable, highway guardrails, billboards, newsstands, etc.
Why Choose Galvanized Steel Coil?
1. Cost-effective Solution
Compared to GL or color coated steel coils, the galvanized coil is the most cost-effective solution but with similar features, such as great corrosion resistance, good appearance, etc.
2. Wide Applications
GI sheet roll is easy to process for different purposes. It is widely used in construction, home appliances, automobile containers, transportation, etc. Besides, it has good coating adhesion and weldability. That's why it is also an ideal base metal for PPGI products.
3. Easy to Transport
Compared to GI steel sheets, coils are easier to transport. In this way, it will save your shipping cost.
Galvanized Steel Coil Types
According to the processing method, we divide galvanized steel into the following categories:
1. Hot-dip Galvanized Steel Coil (Z)
As the name implies, the steel sheet is immersed in the molten zinc bath continuously so that the coil is covered with a layer of zinc on its surface. Hot-dip galvanizing is immersing the cleaned iron sheet into the molten zinc bath at about 450 degrees to form a zinc layer. The zinc content should not be less than 99%. It is the most commonly used method. It has some advantageous features:
1) The entire steel surface is uniformly covered with a zinc layer, even the corners, hollows, etc. so that the steel sheet is fully protected.
2) The zinc coating of hot dip galvanized steel is thick and tough, which offers superior corrosion resistance. So it is more durable to use. At Wanzhi Steel, the maximum zinc layer thickness can reach up to 275 g/㎡.
But after continuous annealing and hot-dip galvanizing, the steel coil is heated and cooled in a short time so that its strength and plasticity are affected to a certain extent.
2. Zinc-Iron Alloy Galvanized Steel Coil (ZF)
This kind of steel coil is also manufactured by the hot-dip galvanizing process. But it is heated to about 500 ℃ immediately to form an alloy coating of zinc and iron after it is out of the zinc bath. This galvanized coil has good coating adhesion and weldability. That is, it can be painted directly without further treatment, other than cleaning. The color is matt off-white, and it appears dark gray after oiling and it has no spangles. It is perfect for making rolling shutters, signboards, panels of vending machines, refrigerators, washing machines, display cabinets, office cabinets, etc.
3. Electro-galvanized Steel Coil
Electro-galvanizing is a process of applying a layer of zinc to steel through electroplating, with a saline anode and steel conductor. It basically ensures the same performance as cold rolled sheets through cold galvanizing. Also, it is able to enhance the corrosion and heat resistance of steel. Its surface is smooth and uniform, and it has good workability. Also, it looks shiny and silver-white, which is more beautiful than a hot-dip one. Moreover, it is cheaper than hot-dip galvanized steel. However, the zinc coating is thinner, and the corrosion resistance is not as good as that of hot-dip galvanized coils.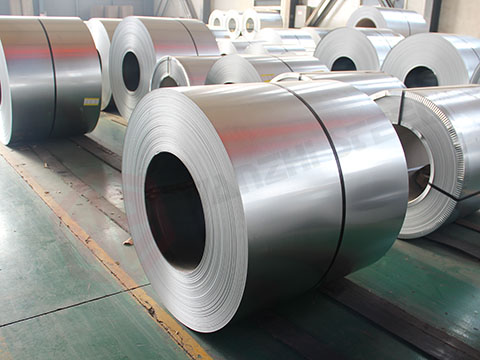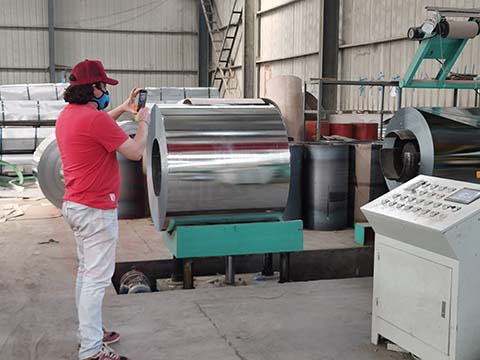 Differences Between Hot-dip and Electro-Galvanized Coils
1. Zinc Layer Thickness
Generally, the thickness of the electro-galvanizing layer is 5-30 g/㎡, and the hot-dip galvanizing layer is often more than 30 g/㎡, or even as high as 600 g/㎡ . At Wanzhi Steel, the max zinc layer of hot-dipped galvanized (HDG) steel can reach up to 275 g/㎡ (Z275/G90, about 38.5154 μm for both sides).
2. Corrosion Resistance
The corrosion resistance of HDG coil is much better than that of an electro-galvanized one. It is because the zinc layer thickness directly matters to the corrosion resistance of GI steel. As for HDG steel, there is a compound layer between the zinc coating and substrate. When the zinc coating is crystallized, spangles are formed. Its zinc coating is uniform and free of pores. While the zinc atoms of the electro-galvanized layer are only precipitated and attached to the surface of the steel. There are many holes in the zinc coating, which causes corrosion easily. So HDG steel can last for decades in outdoor environments.
3. Appearance
The color of the galvanized steel coil is silver-white. The appearance of cold galvanized steel is smooth but not very shiny, while the hot-dip galvanized steel coil looks rough but bright.
4. Production Cost
HDG process consumes more zinc. Compared with hot-dip galvanized steel, the production cost of electro-galvanized steel is lower. But hot-dip galvanizing is suitable for massive production and the yield is high. So the HDG steel price is not much higher than cold galvanized steel. You can contact us for the latest price list here!
5. Applications
The hot-dipped galvanized steel coil is widely used in transportation, building, communication, electric power, energy, automobile, petrochemical, home appliances, and other industries. It is ideal for large parts and equipment. While the electro-galvanized coil is more suitable for small parts, indoor environments, etc.
Hot-dip Galvanized Coil Production Process
Clean the grease, dirt, and paint on the surface of the steel coil. The coils need to be uncoiled and welded for continuous processing.
Rinse off the cleaning solution.
Put into an acidic solution to remove the mill scale.
Wash off the pickling solution.
Dip the steel into the molten zinc bath and hold for a while to be galvanized.
Cool down and roll up the steel into coils for sale.
Package of GI Coil
Steel coils are often packaged with waterproof kraft paper and plastic film inside, and steel sheets outside. Then it will be tied up with steel stripes. In order to fix it during transportation, we will use wood pallets. If you have special requirements, please talk with us! Below are some tips for your reference.
How to Transport and Store GI Coils?
1. Choose a ventilated place for storage to avoid dew erosion or moisture penetration;
2. Confirm that the wrapping paper is not damaged during storage;
3. Shorten the storage time as much as possible and protect its surface;
4. Prevent dirt and oil powder from sticking to the surface, which will affect the galvanizing effect;
6. Place a skid or a support frame under the steel coil, and stack the coils into two layers;
7. Use rain cloth during transportation. Also, fix the coils with the skids, rubber pads, and ropes.
Get Latest Galvanized Coil Price
The FOB galvanized steel coil price in 2022 ranges from USD 700 to 1,300 per ton. The price mainly depends on the thickness of the steel coil, steel grade, the thickness of the zinc layer, galvanizing method, order quantity, etc. Generally, the thick the zinc coating, the higher the price. Of course, it will be durable as well. Besides, the coil thickness and width will also influence the price. When you choose GI steel rolls for sale, you need to pay more attention to the quality instead of the price only. If you want to lower the price, try to buy in bulk.
Wanzhi Steel has two hot-dip galvanizing lines, which can make 10,000 tons of steel coils monthly. So we will offer you a competitive price. Also, we have rich export experience and multilingual teams to save you time and money. Because of the increasing price of material, GI sheet coil price keeps rising in recent months. Welcome to contact us for the latest galvanized steel coil price list. Below is a close-view video of the hot-dipped galvanized coils with a zinc coating of 275 g/㎡.
Reliable Galvanized Coil Manufacturer in China
Wanzhi Steel is one of the top galvanized steel coil suppliers in China. We have a factory in Boxing County, Shandong Province. Meanwhile, we are an experienced trading company, which has served customers from 100+ countries, such as Turkey, Poland, Iran, Brazil, Ukraine, the Philippines, etc. Compared to famous galvanized steel coil manufacturers, like Bao Steel, Wuhan Iron & Steel, etc., Wanzhi Steel offers a more competitive price for the same quality products. Also, there are a variety of steel products to choose from. For example, we also offer galvanized steel sheets for sale, corrugated roofing sheets, and even finished products. Also, we provide other value-added services, such as profiling, shearing, cutting, etc. Welcome to contact us for details!
Galvanized Steel Factory
Wanzhi Steel is a production-oriented company, which has a factory in Shandong Province. There are two hot-dipped galvanizing lines, three color-coating lines, and a galvalume production line in our factory. The annual output is more than 620,000 tons. Also, we have further processing equipment, such as rolling equipment to make corrugated GI roofing sheets. At WanzhI Steel, we also provide cutting, slitting, profiling services, etc. Besides, we employ advanced testing instruments to ensure that our products are made to meet the industry standard. Of course, third-party testing is acceptable. Welcome to contact us to plan your visit!
Surface Treatment of Galvanized Steel Coil
There are some different surface treatment methods to reduce the risk of corrosion during storage and transportation.
1. Passivation
After being passivated, it can reduce rust (white rust) during storage and transportation. However, passivation hinders the adhesion of most coatings. In general, other types of galvanized layer, except for zinc-iron alloy coating, will go through passivation treatment at the factory.
2. Oiling
Oiling can reduce the corrosion of steel sheets under wet conditions. Please note that the oil layer should be removed with a degreaser that does not damage the zinc layer.
Using a thin transparent organic coating film on the surface can provide additional corrosion protection, as well as fingerprint resistance. It can also serve as the adhesion for subsequent coating.
4. Phosphating
Phosphating treatment also is able to improve the adhesion and corrosion resistance of zinc coating. And it can be coated without further treatment in addition to normal cleaning.
If you have special requirements, please let us know.

Conclusion
GI coil is a profitable investment project, which can be used in many areas. Wanzhi Steel is a qualified galvanized steel coil manufacturer in China, which has 17 years of industry experience and 12 years of export experience. During the two decades, we have developed full systems from pre-sales consulting to after-sales service. That's why our products are well-received by customers around the world. Except for GI coils and sheets for sale, we also have PPGI, PPGL, GL steel sheets and coils, strips and plates, etc. to choose from. Welcome to contact us for more information!