Libya 800 tons PPGI Coils Project
Libya is a stable and mature market in which Wanzhi Group has operated for 12 years, and Wanzhi Steel is popular in Libya. In September this year, a delegation of Libyan customers visited the Wanzhi factory and looked at the production process and packaging of prepainted galvanized steel coils. After the friendly agreement and price negotiation between the business manager and the customer, the final customer ordered 800 tons of PPGI coils from Wanzhi Steel Group. At present, the prepainted galvanized steel coils are being produced, and Wanzhi Group will send the color-coated galvanized steel coils to customers according to the time stipulated in the contract. If you also plan to buy color-coated rolls, you can contact us anytime to visit our factory.
PPGI Coils
PPGI coils, you can also call it for prepainted galvanized steel coils, are very popular in construction, agriculture, home appliances, transportation, etc because of their durability, corrosion resistance, and rich colors.  In general, prepainted galvanized steel coil uses galvanized steel as raw material, Our common width is 600 mm-1250 mm, common thickness is 0.13 mm-1.5 mm. You can choose a suitable size according to your requirements. Moreover, we have four types of painting and all RAL colors are for your reference. If you want customized PPGI coils, please contact us at any time.
PPGI Coil Coatings
1. PE
PE polyester PPGI coils have good adhesion, rich color, and cheap price. Due to its low cost, it is popular with customers.
2. HDP
HDP coating has excellent color retention and UV resistance, excellent outdoor durability, and powder resistance. It is suitable for areas with strong ultraviolet light such as plateau.
3. SMP
SMP coating has good hardness, wear resistance, and heat resistance. And has good gloss retention, the cost is medium. SMP is suitable for the use of high-temperature plants, such as generally suitable for steel mills and other indoor temperature environments.
4. PVDF
PVDF fluorocarbon prepainted steel coil has excellent color retention and UV resistance, good formability, and anti-fouling, but the color is limited and the cost is high. Many plants with strong corrosive environments will choose PVDF pressure type color-coated coils, and the sea breeze that is often humid at the seaside is more corrosive generally will also choose PVDF coating color-coated coils.
PPGI Coils–RAL Colors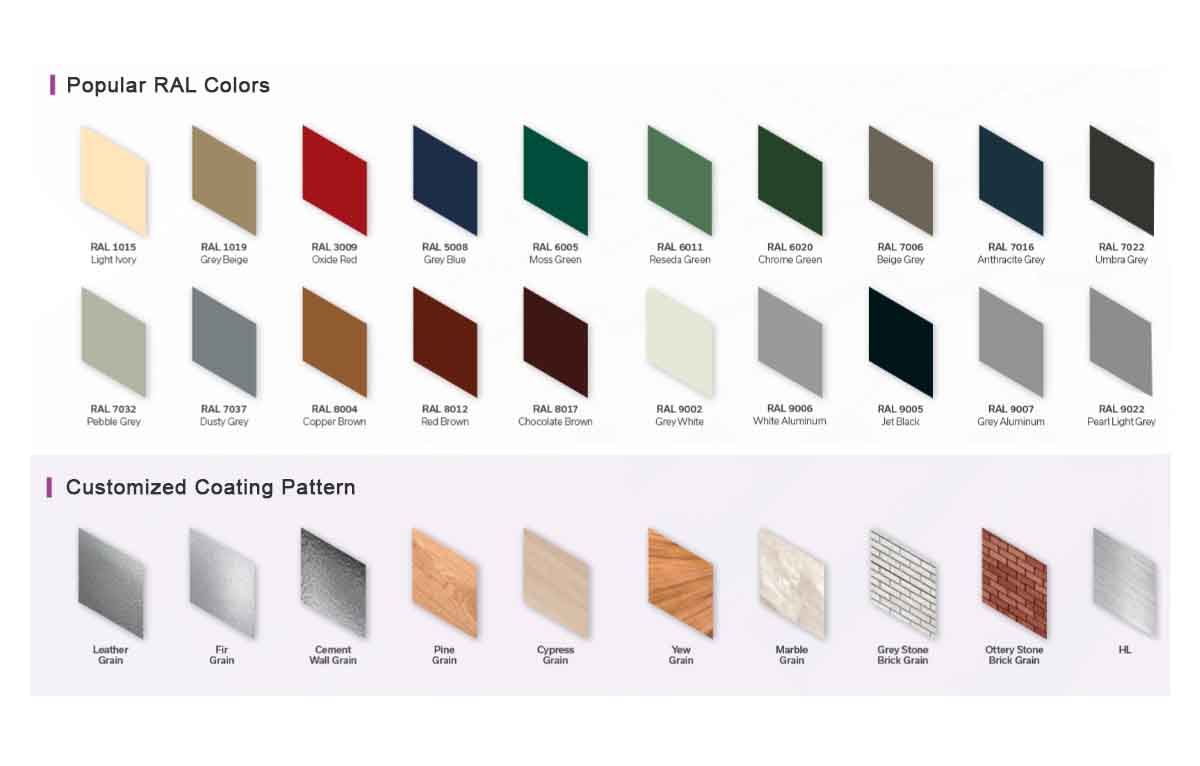 Usages Of Prepainted Galvanized Steel Coils
PPGI coils have unique corrosion resistance, durability, and formability, and are widely used in construction, automotive, home appliances agriculture, and other industries. And because of its high-cost performance, it is very popular in the market.
1. In the construction industry, color-coated galvanized coils can be used to produce durable roof panels, siding, and other structural components to provide firm and long-term security for the skeleton of the building.
2. In the automotive industry, due to its excellent corrosion resistance and durability, prepainted galvanized coils can be used as a raw material for the manufacture of various automotive components, including body panels, chassis components, and even exhaust systems.
3. Home appliance industry, color-coated galvanized coils also have a high strength-to-weight ratio and excellent formability, making them suitable for refrigerators, washing machines, air conditioners, and other electrical appliances.
4. In the field of agriculture, color-coated galvanized coil has the advantages of strong corrosion resistance and long service life. It can provide excellent protection for agricultural equipment in bad weather conditions, effectively reduce equipment maintenance costs, and greatly improve agricultural productivity
Why Recommend You Buy PPGI Coils In Wanzhi Steel?
In China, Wanzhi Steel Group is a leading manufacturer of prepainted galvanized steel coils, which has 12 years experience of in PPGI coil making and research. Moreover, We bought a whole prepainted galvanized steel coils production line equipment from Europe. Advanced production equipment can greatly improve our productivity and meet the purchasing needs of customers. We can choose the paint according to the needs of customers to ensure that there is no color difference and no fading. Besides that, the Shandong factory office of Wanzhi Steel Group has gone online this year. The office has samples of all Wanzhi Steel Group products. You can come and visit in person and choose the color of  PPGI Coils.
Conclusion
Thanks to the trust of our Libyan customers, Our prepainted galvanized steel coils will soon be finished and sent to Libya. If it is your first time buying prepainted galvanized steel coils from Wanzhi Steel, you can send us a sample, then we will customize the product for you.  Apart from prepainted galvanized steel coils, Wanzhi Steel also produces galvalume steel, PPGL steel, color-coated corrugated steel sheets, etc. Moreover, we have our own factory, two galvanizing lines, one galvalume steel production line, and three color coating lines. You can visit our production lines in person. Galvanized steel, galvalume steel, and ZAM steel are available, For further details, please feel free to contact us.